The flying drones that can scan packages night and day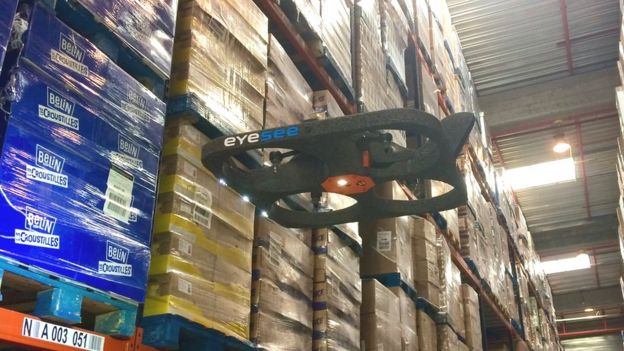 "Today's inventory management requires workers to scan items manually, which is a very time consuming and error-prone process. It's impossible to keep track of all items in the warehouse."
Two drones can do the work of 100 humans over the same time period, according to supply chain specialist, Argon Consulting. This means they can do several tours of a warehouse – even at night – compare results, identify discrepancies, and build up a much more accurate picture much more quickly.
Drone makers claim scanning accuracy of close to 100%.
Matt Yearling, chief executive of Pinc, one of the firms offering such aerial robots, says they can save warehousing and logistics companies millions of dollars.
"Nobody has 100% accuracy – including Walmart and Amazon," he says. "For a warehouse that is 95% accurate, it means that 5% is ambiguous. So if the warehouse is storing $100m [£75m] worth of inventory, then $5m is uncertain.
"Typically the retailer will have more than one warehouse. So, if you multiply the problem across the warehouse network you are talking big dollars."
Pinc's drones use hydrogen fuel cells, enabling them to fly for up to two hours – four times as long as some battery-powered drones.