http://www.bbc.com/news/av/embed/p05l1pcg/41760915
Flying drones and robots now patrol distribution warehouses – they've become workhorses of the e-commerce era online that retailers can't do without. It is driving down costs but it is also putting people out of work: what price progress?
It could be a scene from Blade Runner 2049; the flying drone hovers in the warehouse aisle, its spinning rotors filling the cavernous space with a buzzing whine.
It edges close to the packages stacked on the shelf and scans them using onboard optical sensors, before whizzing off to its next assignment.
But this is no sci-fi film, it's a warehouse in the US – one of around 250,000 throughout the country, many gargantuan in size: retail giant Walmart's smallest warehouse, for example, is larger than 17 football fields put together.
And these automated drones are now doing the jobs humans – on foot, or operating fork-lift trucks and mechanical lifts – used to do: and they're doing them more cheaply and more accurately.
"Every year companies lose billions of dollars due to misplaced items and faulty inventory records in their warehouses," says Fadel Adib, an assistant professor of media, arts and sciences at Massachusetts Institute of Technology.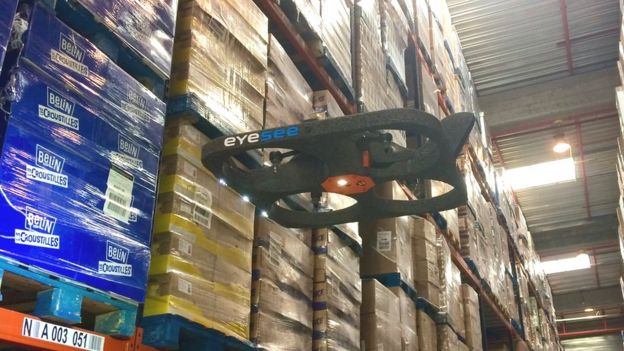 "Today's inventory management requires workers to scan items manually, which is a very time consuming and error-prone process. It's impossible to keep track of all items in the warehouse."
Two drones can do the work of 100 humans over the same time period, according to supply chain specialist, Argon Consulting. This means they can do several tours of a warehouse – even at night – compare results, identify discrepancies, and build up a much more accurate picture much more quickly.
Drone makers claim scanning accuracy of close to 100%.
Matt Yearling, chief executive of Pinc, one of the firms offering such aerial robots, says they can save warehousing and logistics companies millions of dollars.
"Nobody has 100% accuracy – including Walmart and Amazon," he says. "For a warehouse that is 95% accurate, it means that 5% is ambiguous. So if the warehouse is storing $100m [£75m] worth of inventory, then $5m is uncertain.
"Typically the retailer will have more than one warehouse. So, if you multiply the problem across the warehouse network you are talking big dollars."
Pinc's drones use hydrogen fuel cells, enabling them to fly for up to two hours – four times as long as some battery-powered drones.