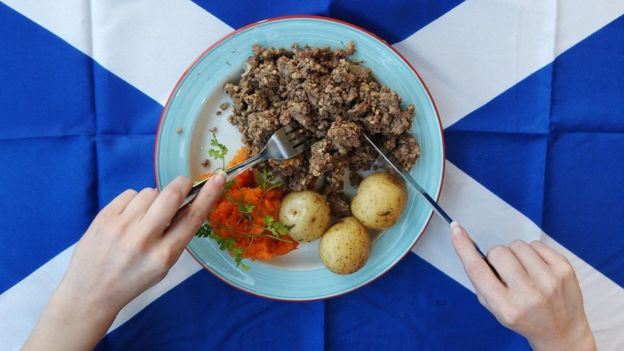 Scotland is to start exporting haggis to Canada for the first time in 46 years, it has been announced.
Canada lifted a ban on imports of red meat from Europe in 2015 but still does not allow imports of offal.
This has left Scottish producers, including Macsween of Edinburgh, working on new haggis recipes to meet local regulations there and in the US.
Economy Secretary Keith Brown welcomed the news during his tour of the US and Canada.
Scottish food and drink exports to Canada are now worth more than £94m, following increases in recent years.
'Iconic symbol'
James Macsween, managing director of Macsween of Edinburgh, said he was "delighted" that his family's firm would be the first to sell haggis in Canada for almost 50 years.
He said: "My grandfather, Charlie, would be very proud to see how far we've come from his original butcher's shop in Bruntsfield, which he opened back in 1953."
---
Selling haggis in Canada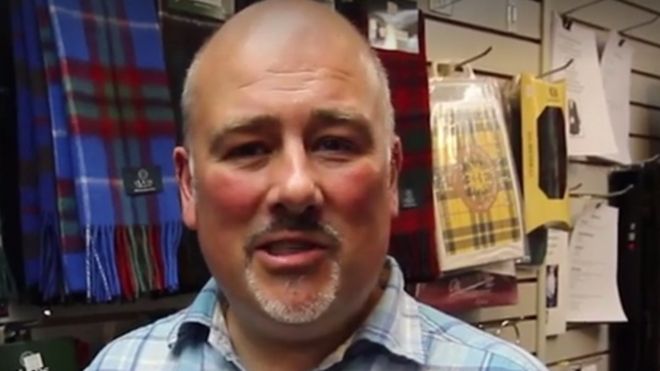 Simon Bentall, at the Scottish Loft in Niagara-On-The-Lake, Ontario, told the BBC's Good Morning Scotland programme he was delighted about the change in the rules.
"We had haggis from the States, which was OK, but it's not the same is it?
"We pride ourselves in having Scottish stuff; something from the States is not Scottish."
Simon said there is an established demand for haggis in North America.
"The other day I sent it to California. Two tins of haggis to California.
"Florida once too. Sent a can to Florida. That was last November."
The regulations can be rigorously enforced. Another shop specialising in imported goods was recently raided by the authorities.
"The Customs check all the time. Not my shop, but a friend has a shop about 20 miles away and he got raided.
"Some of the stuff was thrown away. Probably about £1,000 to £2,000 worth of stuff."
---
Mr Brown, who is currently in Toronto promoting Scottish food and drink to Canadian buyers, said haggis was "a truly iconic symbol of Scotland".
He added: "After waiting 46 years, I'm sure there will be many Canadians and ex-pat Scots looking forward to having Scotland's national dish at the centre of their table at the next Burns' supper.
"This development is an indication of the increasing interest in, and love of, Scottish food and drink produce in North America.
"As a government, we have supported Macsween to grow their business and will continue to support Scottish companies in unlocking the significant opportunities to be found in this fast-growing market."